Tier lists are basically how strong stuff is. The tiers are S, A, B, C, D, K, and Untiered. Untiered characters such as The Animator have varying strengths.
Tier list for AVA 1
S Tier (Strongest):
Animator
Victim
Tier list for AVA 2
S Tier (Strongest)
Animator
The Chosen One
Avast! Antivirus.
AIM
A Tier:
Firefox
More coming...
Tier list for AVA 3
S Tier (Strongest):
The Chosen One
Obviously. The Chosen One is like a god. He's extremely strong. Although he does get hit, he is also very durable and can take a lot of hits.
The Dark Lord
Although The Chosen One beat him, The Dark Lord is equal to (or stronger than) The Chosen One. His energy balls are pretty strong. Part of the reason The Dark Lord lost is because of the battlefield. If Minesweeper wasn't there, he would have been tossed off the Solitaire window instead, which is much less harmful.
A Tier:
Clippy
Clippy is a pretty formidable guy. He has a wide range of abilities, from morphing to drawing with text. He seems to be quite resilient too, as he stopped a punch from The Chosen One. However the durability goes down with every hit, which is why after a while The Chosen One was able to tie him up like that. It wouldn't have been as easy if it was the beginning of the fight.
Firefox
Firefox is like a miniature Dark Lord. It can fly, it can shoot fire/energy balls, and it is powerful. It seems to be extremely aggressive at times, and other times it just sits and watches, like when IE and Skype were pushing around The Chosen One. Firefox is powerful, but not enough to be in the S Tier.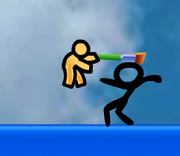 AIM
AIM is also a powerhouse. Although he was weaker than normal, he was still at least at his B-game. (get it? A-Game, B-game?) AIM is still a powerful foe for The Chosen One, even though he was nerfed in AVA 3.
B Tier:
Skype
Skype is like a miniature AIM. His fighting style is effective against The Chosen One, just like AIM, and he possesses lots of strength. He has high attack too, and can also pick up stuff.
C Tier:
iTunes
iTunes is basically an aerial assault ship with the disc. The disc basically gives it all the power. It's spinning rapidly, so if someone gets hit it will hurt. But, like Google Chrome, it is a Glass Cannon. The disc is fragile.
Google Chrome
Chrome is like a Glass Cannon. It has high attack power but low defense. Its laser packs a punch, but its extremely low defensive abilities drop it to the C tier. And it's a target, since a general would want to get rid of the powerhouses in the other army first, right?
Orbit
While Orbit was the first to get defeated, it wasn't the weakest. It's just because it was the only one that charged forth besides Google Chrome, and Chrome was just providing support. Orbit's arrow has a lot of power, but it has low accuracy.
D Tier:
VLC media player
VLC is like a nerf. It reduces the effectiveness of the wearer. VLC is cool, and it is extremely durable, but nerfs aren't that effective against The Chosen One.
Windows Movie Maker
WMM was basically a weaker version of Skype. Its attacks were basically punching and whacking The Chosen One, like Skype's were. And WMM was exploited by the virus stickman, since he used it as a weapon.
K Tier (Weakest):
Internet Explorer (No, I'm not pro-Mac or anti-PC)
IE was a little more than an annoyance. Most of the time it just watched the fight. The little time it did it was very weak.
Yahoo!
Yahoo! Messenger was pretty much just an annoyance for The Chosen One. And a projectile. He was weak in this movie. (I apologize if you're a Yahoo! fan).
iTunes music note
This was an annoyance to the Chosen One.
Untiered:
The Animator/Noogai
His power is dependent on the battlefield. If it's Flash, he has a lot. If it's the Desktop, he can move stuff around and that's pretty much it. It varies.
Tier lis for AVA IV
S tier:
Animator
A tier:
Fighting Stick Figures