Internet Explorer 6

Internet Explorer 6

Name

Internet Explorer 6

Gender

Genderless

Species

Microsoft

Relatives

Unknown

Introduced In
Internet Explorer 7

Internet Explorer 7

Name

Internet Explorer 7

Gender

Genderless

Species

Microsoft

Introduced In
Internet Explorer is a small blue letter 'e' with a ring that he is appears on Animator VS Animation 2.
Appearance
As Internet Explorer 6, Internet Explorer has a small light blue e that has a cut for the light blue ring. As Internet Explorer 7/8, Internet Explorer has the same but the e was dark blue, a dark outline, and the cut is yellow instead of white, and has a yellow ring instead of light or dark blue. As Internet Explorer 9/10, the e is light blue again but thinner and the ring is still yellow but lighten and looks like a planetary ring. IE in the Start Screen was in the square light blue tile and he was color white (and the ring)
Internet Explorer 6
In Animator vs. Animation 2, it made a minor appearance, but didn't do anything.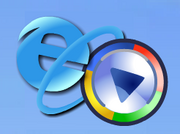 Internet Explorer 7
In Animator vs. Animation 3, Internet Explorer 7 was one of the supporting characters, but wasn't really useful in anyway.
Powers And Abilities
Internet Explorer has shown the ability to bite and potentially end Stick Figures.
It can headbutt (It headbutted TCO onto Skype)
It can slice the icons. (Only in Icon's Story!)
Trivia
In Animator VS Animation 2 he is taken on 2 segment with on the program Adobe Flash Player's marcomedia flash 8
In Animator VS Animation 3 The Chosen One (actual:Windows Media Player) kicked (actual:hitted) Internet Explorer (Internet Explorer 6) on the desktop hill (Bliss) and in the desktop beach (Azul) and he is on 4 segment because The Dark Lord uses claps for Internet Explorer (Internet Explorer 7)
Internet Explorer 6 was Included to Windows XP
Internet Explorer 7 & 8 was installed when Windows XP SP2  and SP3 was Installed.
Internet Explorer 7 is included to Windows Vista, Internet Explorer 8 is included to Windows 7 but Internet Explorer 9 was a installment to Windows 7 and Internet Explorer 10 is included to Windows 8.
Internet Explorer contributed very little to the fight.
It wasn't part of desktop programs anymore on SP3.
It doesn't appear much unlike AvA3.
See Also
Internet Explorer in Wikipedia
Ad blocker interference detected!
Wikia is a free-to-use site that makes money from advertising. We have a modified experience for viewers using ad blockers

Wikia is not accessible if you've made further modifications. Remove the custom ad blocker rule(s) and the page will load as expected.