Adobe Photoshop

Adobe Photoshop 4.0

Name

Adobe Photoshop

Gender

Genderless

Species

Adobe

Introduced in
Adobe Photoshop is an app with a lazer eye that only appears in Animator vs. Animation II.
Role
In Animator vs Animation 2, he was hit by the ball of
Game Maker.
 His eye flames up in rage, and turns red as it shoots it's laser at The Chosen One. As a counter attack, The Chosen One also uses a laser, in which he forces aggressively back at Adobe Photoshop, ultimately, leading in its defeat.
Powers/Abilities
Adobe Photoshop can shoot lasers from his eye.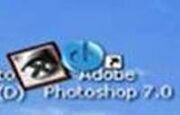 Trivia
When the Chosen One reaches the start menu, the defeated Adobe Photoshop icon appears in recent programs. It is in the same state as the one on the desktop.
Adobe Photoshop only appeared in Animator vs. Animation 2 as 4.0 but it was also upgraded to Adobe Photoshop CS4 along with Flash, Dreamweaver, Fireworks, etc.
The text is called Adobe Photoshop 7.0 which does not match the icon of the adobe version.
Photoshop is one of the four icons to have ever been hit my a stick figures powers.
Photoshop as a minor apparence in Animation VS Animation IV.
Ad blocker interference detected!
Wikia is a free-to-use site that makes money from advertising. We have a modified experience for viewers using ad blockers

Wikia is not accessible if you've made further modifications. Remove the custom ad blocker rule(s) and the page will load as expected.